Elvira Mistress of the Dark featuresAPEMANIA on MONSTERAMA
In 2008, APEMANIA was busy with FOX promoting the 40th anniversary Blu-Ray release of the original saga. (click here for details)
One of the stops on the 2008 promotional tour was a visit to the RACHEL RAY SHOW. We made up Rachael's pal Colby Donaldson as a chimp to surprise her!
GOOD MORNING NEW YORK
APEMANIA invaded the PAUL O'GRADY show in LONDON Dec 2008
MADRID SPAIN
PARIS FRANCE
BERLIN GERMANY
CHANNEL OF THE APES WEEKEND
To kick-off the release of the ULTIMATE DVD COLLECTION members of APEMANIA invaded the set of TV GUIDE CHANNEL's "TV WATER COOLER". Click here for some antics
APEMANIA helped AMC kick off the APES OF WRATH weekend October 25th, 2003. Click here to download a WMV movie of some hilights from the show.
DECEMBER 2003, The Monster Channel's "MONSTERAMA" show visits the APEMANIA studio for a behind the scenes look at what it takes to GO APE!
Friday, August 3rd, 2001, Channel 5 UK (London) filmed at APEMANIA's studio while the troupe prepaired to invade Universal City's Hard Rock Cafe!!! A great time was had by all!
On Thursday, July 26th, 2001 APEMANIA "ape-peared" on KTLA's Morning Show.

(Channel 5 in LA.) The show was broadcasting LIVE coast-to-coast from the Make-up & Monsters Studio all morning until 8:30AM (PST).

Keeper of the Glue and Faith transformed host Gail Anderson into an ape before the viewers eyes while the APEMANIA cast coached him! It was fun. We'll post fotos in the FAMILY ALBUMS section soon.
Amazing Figure Modeler Magazine Reviews

We got a rave review on our Zaius, Julius, and Cornelius resin busts. Check out the article.

E3 2000: Electronic Entertainment Expo

Apemania was again featured at Fox Interactive's area for the show. The APEMANIA studio team also supplied FOX with BUFFY the Vampire Slayer costumes for the Buffy booth.
L.A. Convention Center
(May 11th-13th, 2000)
On September 28th, 1999 A groundbreaking ceremony took place at the Motion Picture Television Fund home in Woodland Hills , California for the Stark Villa, a retirement facility for some 90 motion picture retirees. Adjacent to the Villa will be the Roddy McDowall Rose Garden. The garden is a memorial tribute from "Roddy's Girls," a group of more than 75 close female friends of the actor, who passed away last year. Stay tuned for more details.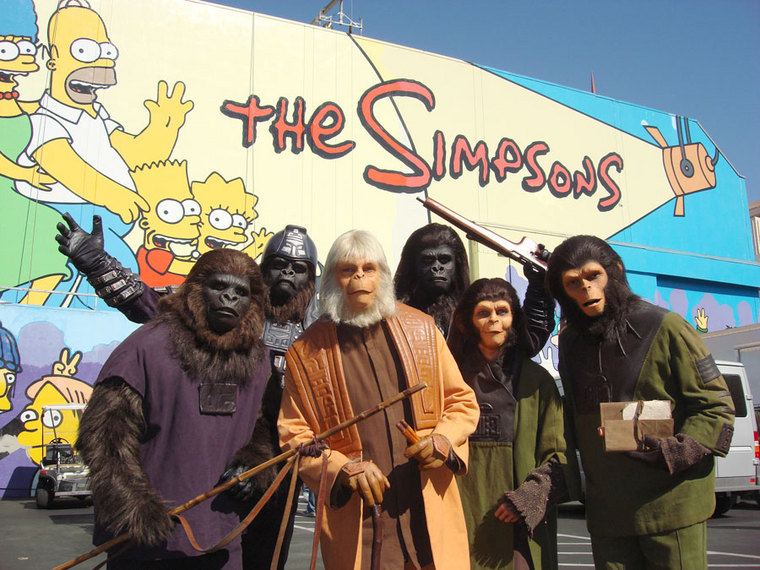 GOING APE! on the FOX BACKLOT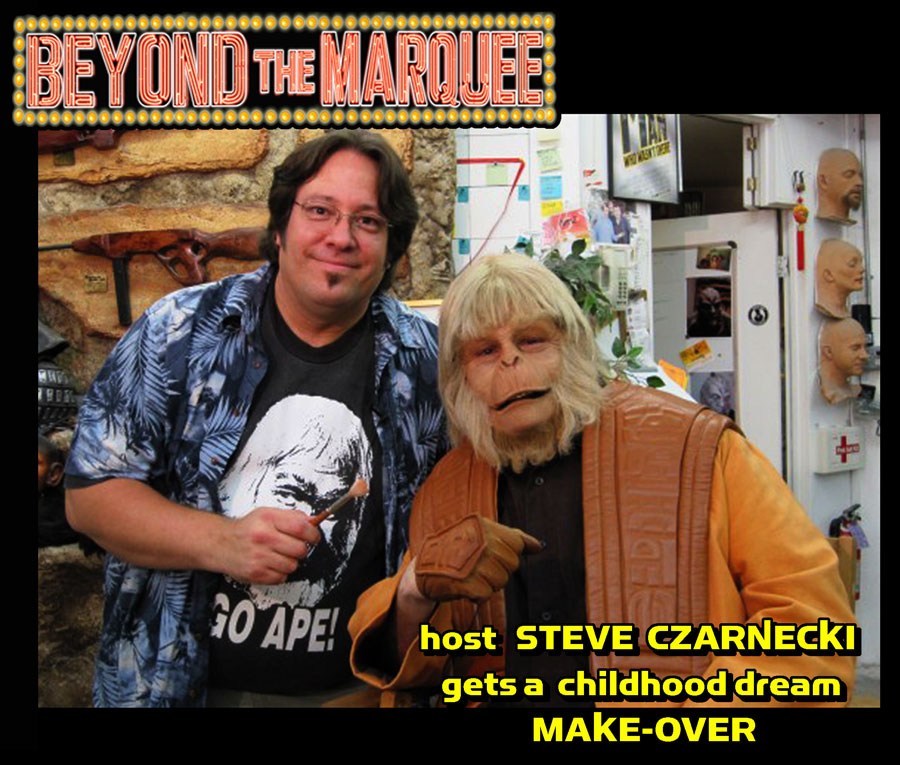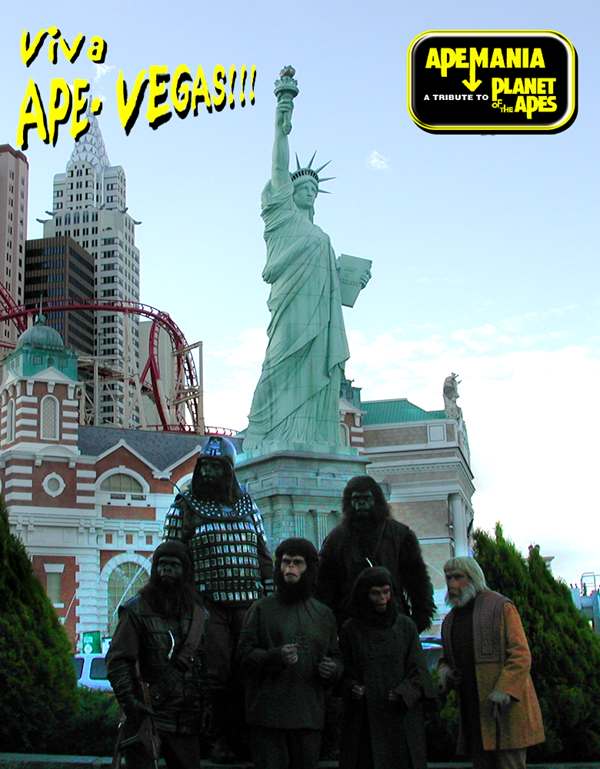 On APE-RIL 20th-22nd, 2001,
APEMANIA ruled the Rivera Hotel & Casino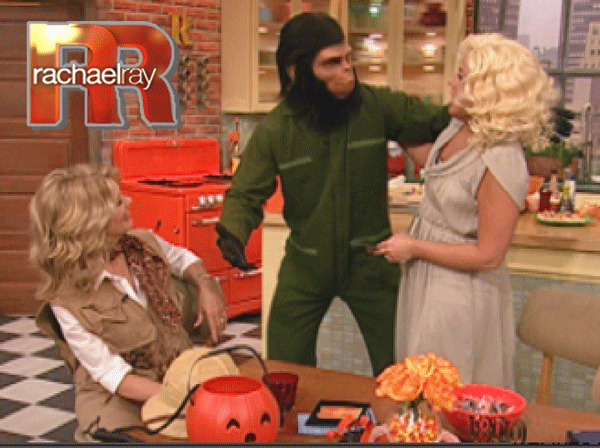 Rahcel Ray gets a big hairy
Halloween surprize!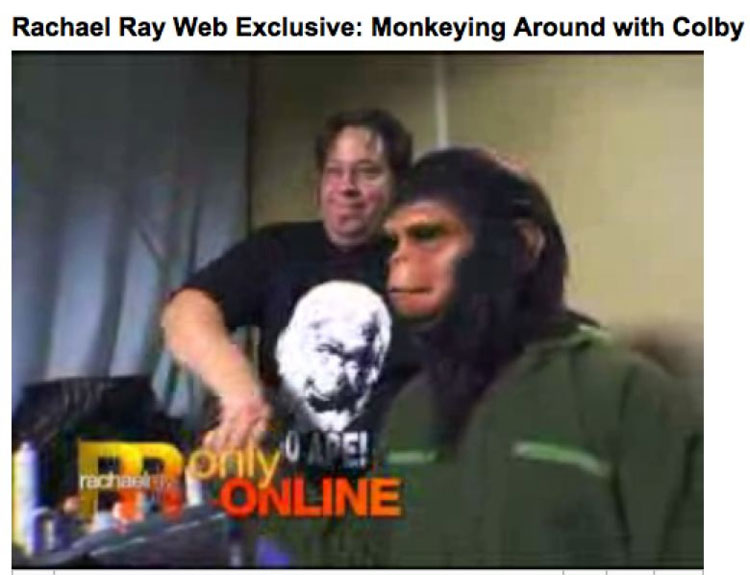 The Donny& Marie Show
On March 22nd, 2000 our illustrious leader
ape-peared as a guest on the Donny and Marie show.
The episode aired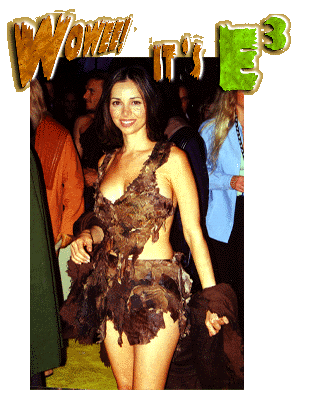 Nova and her friends left the crowds SPEECHLESS at E3!