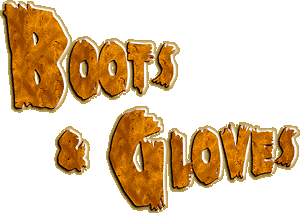 Who says it's impossible to find quality boots or gloves for your incomplete
Gorilla Costume? Here at the APEMANIA workshop,
our cobblers and leather crafters work 'round the clock to keep
our ape armies comfortably clad! So if you are a little out-of-uniform and feeling
out-of-sorts, and your platoon buddies constantly tease you about your PF Fliers,
put your feet in our hands. We'll do you right.
Uhh, just make sure you wash some of that Forbidden Zone crud out
from under your toe-nails first, okay?
DELUXE LEATHER GORILLA BOOTS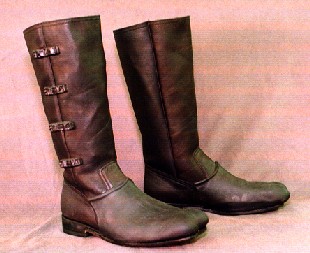 REPLICA
DELUXE LEATHER GORILLA BOOTS
These genuine cowhide boots are specially patterned from
one of the original pairs of Planet of the Apes Gorilla boots
locked away in the APEMANIA vaults.
The "APE" details (buckles and toes) are castings from
the originals as well. Even the soles are custom shaped
to contour the infamous Ape "Double Toe".
The best for surprise inspections, these babies won't disintegrate when you spit-shine them the way a pair of hard-to-find
30 year old originals do! Don't you just HATE that?
ECONOMY GORILLA BOOTS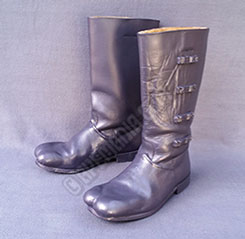 REPLICA
The ECONOMY BOOTS (ABOVE)
are simpler versions of the original boots.
They have the same APE Details as the
DELUXE LEATHER style boots
(buckles, toes, soles) but are priced to be
more affordable to the warrior on a budget.