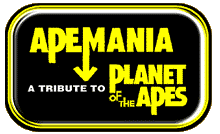 Pictured above: fully painted Prosthetic sets on vacuformed displays
Prosthetic sets are also available in "RAW" unpainted form,
for the hard core "do it yourselfers"


Pictured above: DELUXE Complete Prosthetic Set:
Finished prosthetics, Wig, Hairpieces,
with the OPTIONAL Starter Make-up & Removal Kit
(Make-up kits & supplies are sold seperatley)


Apemania's Foam Latex prosthetics are being made available to those brave individuals who long to
"get into the goo"!
Pieces are available fully painted with teeth, or
"in the raw" (plain & unfinished)
for you do-it-yourselfers.

DELUXE COMPLETE PROSTHETIC SETS include:

FOAM LATEX Muzzle and Chin,

fully painted and vented, with teeth

Ears (2) (chimps only)

Human Hair Wig & Hair-piece sets,

styro Wig Block


Additional OPTIONAL items:




Wrist hairpieces Chimps and Orangs)

Hair collars (Gorillas) optional

• Deluxe Make-up Kits are also available
and also come with instructions for application and removal.
"how-to" videos are available with purchase.

back to the MASKS,
or
click here for Price List pages
Here are some EXAMPLE IMAGES of the CORNELIUS prosthetic Ape-plication™!!!
| | | | |
| --- | --- | --- | --- |
| FIG 1: MUZZLE and EARS attached | FIG 2: CHIN and SHADING added | FIG 3: Wig & HAIRPIECES added | FIG 4: Looking Shaggy there SCOOB! You Need a Haircut!!! |
| FIG 5: Getting a shave! | FIG 6: FINAL COLORS and... | FIG 7: ... CONTOURS added | FIG 8: DON'T FORGET THE HANDS!!! |
Home | Cast & Crew | History | Current Events | Artifacts & Collectibles
Family Albums | Interviews and Tributes | Junior G-Man | Links | Contact Us