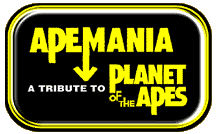 So you've spent eons praying to the great ape-makers in the sky for a chance to get your very own Lawgiver Statue, have you? Well monkey-boys and girls,
Yahoo! Make-up & Monsters Studios has produced the first Licensed Limited Edition
reproductions of the Great Lawgiver Statue, and just in time for the new millennium!!! Each statue is made-to-order from molds that were taken from one of the two known original LG's used in the POTA films!
Ol' LG's dimensions are and impressive 9' x 4', and the weight is about 450+ lbs.
Your neighbors and friends will surely go bananas at how well the "GLG" compliments any back yard furniture ensemble!
Free delivery in the Greater Ape-City / Los Angeles area, otherwise Buyer should be aware of crating and freight charges to their part of the Forbidden Zone and all points beyond. Call, write, e-mail, or Fax us for more shipping information.
Be the first in your village to own the Great Lawgiver, and your friends may just build a monument in your honor for you being so cool!
(click on the images below for larger looks!)