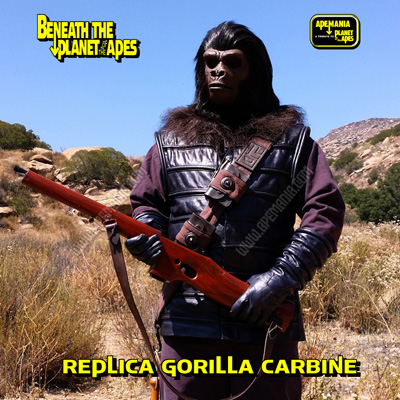 THE MODEL DISPLAYED HERE IS THE "ECONOMY" MODEL
with SPRING-LOADED TRIGGER.
This model was patterned from rare screen-used "HERO" (foreground)
BENEATH rifle, not one of the more common BACKGROUND rifle props.
As a result, the details are extraordinarily realistic and accurate.
THE FINISH IS GLOSS.
SATIN FINISH IS ALSO AVAILABLE.
click on thumbnails to see full size
replica model of the 1970 Beneath the Planet of the Apes Gorilla Rifle
THIS "ECONOMY" version has a spring-loaded trigger,
but no other moving parts.
"REPLICA "BENEATH the PLANET of the APES" gorilla carbine